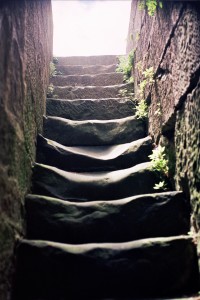 In 1999, I spent a week in San Sebastián, on the northern coast of Spain.
As I was wandering through the old town, with its narrow, cobblestone streets, I discovered a stairway that led down into the ocean. I could not see the bottom of it. In fanciful moments, I consider the thought that it continued all the way down.
Climbing down until I was thigh-deep in the water, I took this shot. When I got home and developed the film, I noted with dismay that the closest parts were dark and out of focus. I put the image away, and it languished.
I came back to it a few years later. Digital photography had become more common, and I included it in a set I transferred to digital. When I saw the digital image, I began to see possibilities. I adjusted it closer to what was in my memory (which had several years of distance to enhance my mental image), and printed it for a show.
It was received better than I anticipated. I began to see what I had missed in my first hasty judgment of it: the transitions from dark to light, old to new, low to high, all became emblematic of the journeys we make.
Is this a stairway to heaven or the last glance as we descend into the underworld? Just what is hidden in the glowing light at the top, or in the murky depths behind us? The sharp clarity at the top of the stairs cannot change the fact that we cannot see beyond them, and the shadowy reaches below are well worn, but ultimately unknown.
It tells a story of the transitions in our live, of our desires to become something new, to take on a challenge and to transform ourselves and our experiences.
It has become the icon of Worldswalker Photography, not only because it is my most popular piece, but because it reminds me to take the journey down the stairs, and to set aside first judgements and look at my art to see not only the flaws, but also the possibilities.