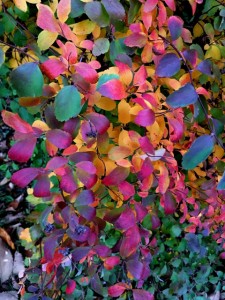 Autumn can be one of the most photogenic seasons, with its bright leaves and crisp blue sky. Sometimes you get exactly the image you want, intense yellows, oranges, reds, with green accents and a blue sky background.  Or you get a picture of a house that just screams Halloween.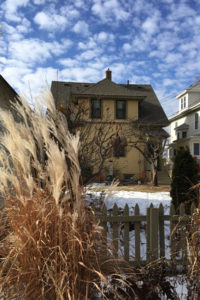 Other times, there is what you think you have photographed, but what you get is… muddy brown and beige leaves against dry tan grasses.  The camera fades all of the colors to neutral, and you are left wondering what happened to your colorful image.
I've been there. Here are some of my tips for capturing the season:
When photographing leaves, make sure there are contrasting colors. A brilliant yellow tree is delightful, but better still is one set against blue sky, or a tree with bright reds mixed in with the yellows.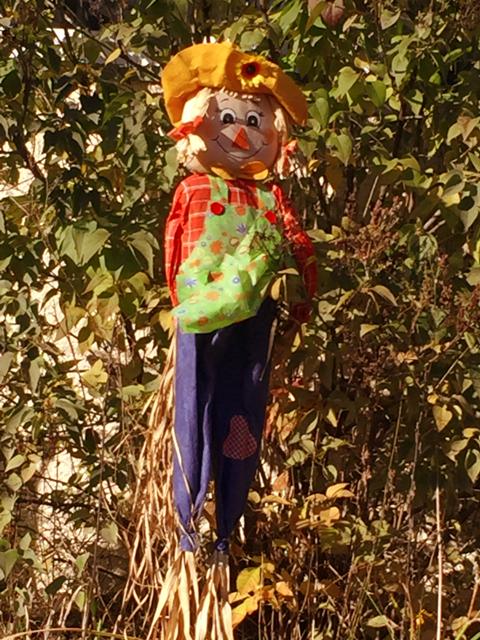 There is more to autumn than leaves. I discovered this little guy that someone had put out to celebrate the season. What makes it autumn for you? Is it the bright leaved trees, golden fields, scarecrows, farmer's markets full of autumn harvest, fields of pumpkins and other squashes, piles of dry leaves with children leaping into them?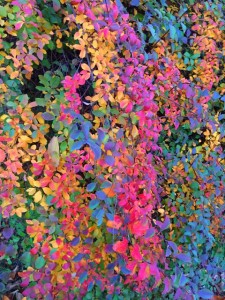 When I'm out bicycling in the crisp autumn air, I might not have my professional quality digital SLR with me to shoot and save to RAW files. I may not have my neutral grey cloth to ensure color match. I may just have a small pocket camera (or even a camera on my phone, which these days can have the same resolution as my digital SLR). So I make do.
If the camera dims the colors on my lovely autumn image, as it re-interpreted them before saving to JPG, I turn to Photoshop to return the image to what I saw in life. My favorite tool is "selective colors". With that, I can bring back the color the camera lost, making each color more distinct. I use it as a layer, so I can adjust as needed. Selective color allows you to increase or decrease cyan, magenta, yellow, and black (chroma), the four main colors used in printing (CMYK) for each of a set of color categories. I select reds, and boost magenta and yellow. I select greens, and boost yellow and cyan.   I choose magenta, and lower the yellow just a hint.  I have to be careful not to overdo, lest the image become fluorescent, but a push here and there, each time to enhance the color, making it just a tiny bit more intense.
I hope your autumn images shine bright, and awaken joy in the season.