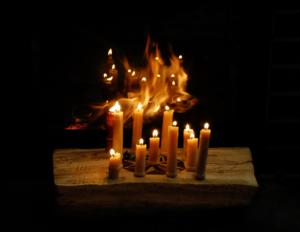 Winter in Minnesota is cold and dark. At midwinter, the sun rises at 7:47 AM, and sets at 4:33 PM, giving us eight hours and forty six minutes daylight. Temperatures drop below freezing, and especially in January and February, can drop below zero.
Snow helps alleviate the darkness, refracting light, turning cold and dark to cold and beautiful. Those who brave the frigid temperatures are treated to the quiet beauty of a winter day. My last winter post shared some photographs I took of the beauty of a snowy landscape.
When the days get dark and cold, however, we find the cozy delights of staying indoors. We celebrate winter with feasts and fire.
We might light a Yule fire in the hearth.
We might light a single candle.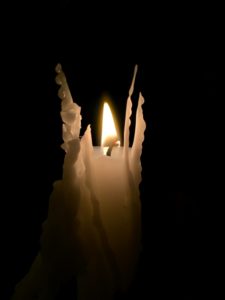 Fire brings light into the darkness of winter.
Even now in early February, we have at least a month of winter to look forward to. Six weeks from Groundhog Day to the vernal equinox. It is still very cold. A fire, even a flame, is a very welcome sight as we wait for the sun to bring warmth back to the land.
*   *   *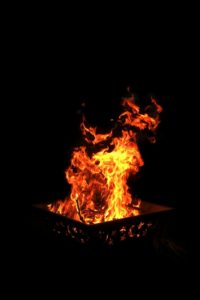 Transferring the flame to a photograph can be a challenge. Fire pictures are a study in contrast, the brightness of the fire against a background cast into darkness in comparison. That can be used to create beautiful, stark images.
Fire in the daytime can seem faded and washed out, with nearby objects appearing as clutter. At night the image can have too much contrast. Using photo editing software to darken the darks allows the fire to take the focus, and allows you to start with a brighter image that has some depth of shading. Give the photograph context by allowing a select few objects in the frame to give the fire context: a log, reflections in glass or water, or the amazing shapes of candle wax. There are also images of pure fire, bonfires creating their own context.
Fire is part of us, something that connects us back to days when it was our only source of warmth.